Beyond style and kerb appeal, adding curtains to your sash windows is just as double glazing is an additional layer that can keep some of the heat in your home and provide you with some privacy.
Here, we explore the considerations you need to factor in when shopping for sash window curtains, including the types available.
Why are curtains for sash windows so important?
Sash windows can look beautifully classic when dressed with elegant curtains. Curtains in rich fabrics add a touch of charm and sophistication to these traditional windows.
With the right curtains, sash windows become stylish focal points that tie together the traditional ambience of a room.

If you have recently reglazed or repaired your sash windows, you'll want to show them off and make the most of the details they feature.
Curtains can draw attention to the window and really make it a nice focal point in a room.
Likewise, if your sash windows are looking a little tired, curtains can help cover any issues.
Curtains in any window help to control the light inside your room and allow you to enjoy some privacy. Sash windows are generally a lot larger than standard windows, so being able to control these elements is crucial, and the importance of getting the curtains right is even more prominent.
Getting ready to go curtain shopping
When shopping for new curtains for sash windows, remember to consider the following:
Window size and type
The size and type of sash window is crucial to consider. Large windows will need long curtains, and as every sash window is a different size, you'll need to measure up carefully.
Style of room
In a traditional or formal space, you may want curtains made of luxurious fabrics like silk, velvet, or damask in solid colours or simple patterns. These heavy fabrics will drape beautifully in front of the tall sash windows.
For rooms with a cottage or farmhouse aesthetic, light and breezy curtain fabrics like linen, cotton, or lace would complement the casual style.
Their natural textures will soften the window frames. In a contemporary or modern room, clean-lined curtains in solid colours of grey, white or black would suit the sleek look.
Unlined curtains in a midweight fabric will fall gracefully on either side of the window. For eclectic or bohemian rooms, choose fun printed curtains with bold colours and global-inspired patterns. The mix of colours and textures will enhance the free-spirited vibe.
Letting light in & privacy
Bedrooms, living rooms and rooms at the front of your house are more likely to need privacy and light control, especially if you live on a busy street.
You might want to consider bedroom blackout curtains to keep the room dark on bright summer mornings or if you do shift work.
What types of curtains work with sash windows?
Luckily for homeowners with sash windows, there are lots of curtain options to improve your home.
Drapes
For a luxurious look, drapes are a great option for sash windows. Floor-length drapes in opulent fabrics like velvet or brocade can recreate a Victorian or Georgian aesthetic. Pinch pleat and French pleat drapes are effective with sash windows, as the pleats provide fullness while allowing the drapes to stack neatly out of the way.
Tuxedo pleated drapes
Tuxedo pleated drapes are perfectly suited for sash windows. The pleats alternate directions, allowing the drapes to stack tidily to each side when the windows are open. Choose a heavyweight fabric like a damask for the most authentic look.
Pencil pleated drapes
Pencil pleats create a graceful, tailored look. The thin, evenly-spaced pleats do not add bulk, so pencil-pleated drapes won't get tangled in the sash windows. They're ideal for rooms with a more formal vibe.
Pelmets and valances
Dress up your windows with pelmets and valances that add polish while hiding the hardware. Pelmets create a clean finish by capping off the top of the window.
Valances are the fun frills, lightweight bands placed with creativity over the drapes. Mount both pelmets and valances high above the window frame so the sashes have room to slide freely.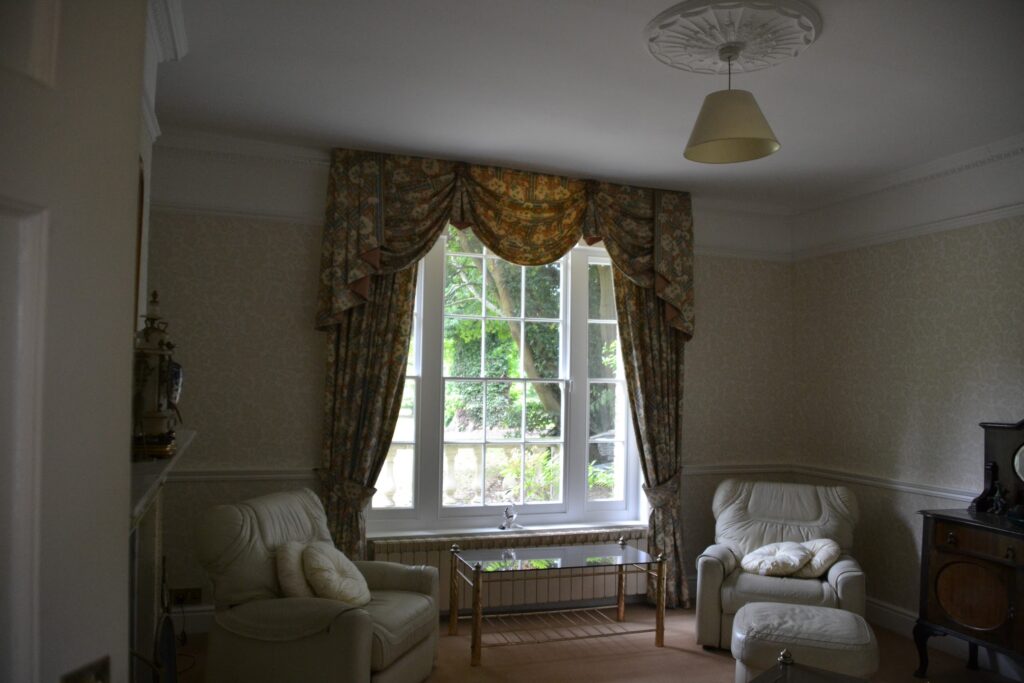 Curtain lengths for sash windows
When selecting curtains for sash windows, the length is an important consideration. Traditional sash windows often had short valance curtains or no curtains at all. But for more modern interiors, longer curtains can provide elegance and privacy. Floor-length curtains that puddle slightly create a luxurious effect.
The curtains should clear the bottom rail of the lower sash so they don't obstruct the window. An intermediate length that hits just below the sill is also an attractive option.
Measuring up
Underpinning curtains for sash windows is an accurate measurement. You don't want curtains that are too wide to fit, or that come up short.
Measure sash windows
You'll need to capture the width and height of the window and consider adding a few extra inches of materials depending on the type of curtain you choose. Many curtain companies will come out and do this for you to prevent costly mistakes. They may also give you some extra tips that you may have missed.
The same goes for installation – a professional will ensure the measurement and installation go as smoothly as drawing your new curtains across.
What Fabrics are best for sash window curtains?
The fabric you choose for sash window curtains can make a big impact on the overall look and function.
Luxurious fabrics like velvet, brocade, and tapestry in rich colours evoke a classic, elegant aesthetic.
Fabrics in a medium weight range, such as cotton, linen, or polyester blends, exude a comfortable, laidback aura. Their approachable nature lends itself well to casual living spaces.
Stay away from lightweight, sheer fabrics that could blow around and get caught in the sash. The fabric should be opaque enough to provide privacy.
Curtains intended to block light should be tightly woven. For sound dampening, look for thick, heavy fabrics.
Recommended fabrics include:
Velvet
Brocade
Tapestry
Cotton
Tightly woven opaque fabrics
Thick, heavy fabrics for sound absorption
The right fabric complements your decor while performing beautifully in sash windows.
Sash windows after double-glazing aren't as draughty as older single-glazed ones – but the chances are that you'll want some nice thick fabric to assist with insulation.
Thick curtains provide more insulation, while lighter materials let in more natural light if you want to consider the light in your room.
Read more articles
20 Oct
Types of window glass
Types of window glass
13 May
Is there a vacuum in double glazing?
Is there a vacuum in double glazing?
18 Nov
Concrete window sill repair
Concrete window sill repair