Slimline double glazing is one of the best ways of bringing a listed building into the 21st-century thermal efficiency standard and significantly improving the energy rating of your home.
31% of heat is lost through windows
When retrofitted correctly into the existing timber frame, slimline double glazing doesn't change the look of the windows or the property but prevents heat loss and soundproof sash windows.
Slimline double glazing for listed buildings is the best alternative to fully replacing your windows in Grade 2 listed or conservation area houses.
It improves the thermal efficiency of old windows while saving old timber frames.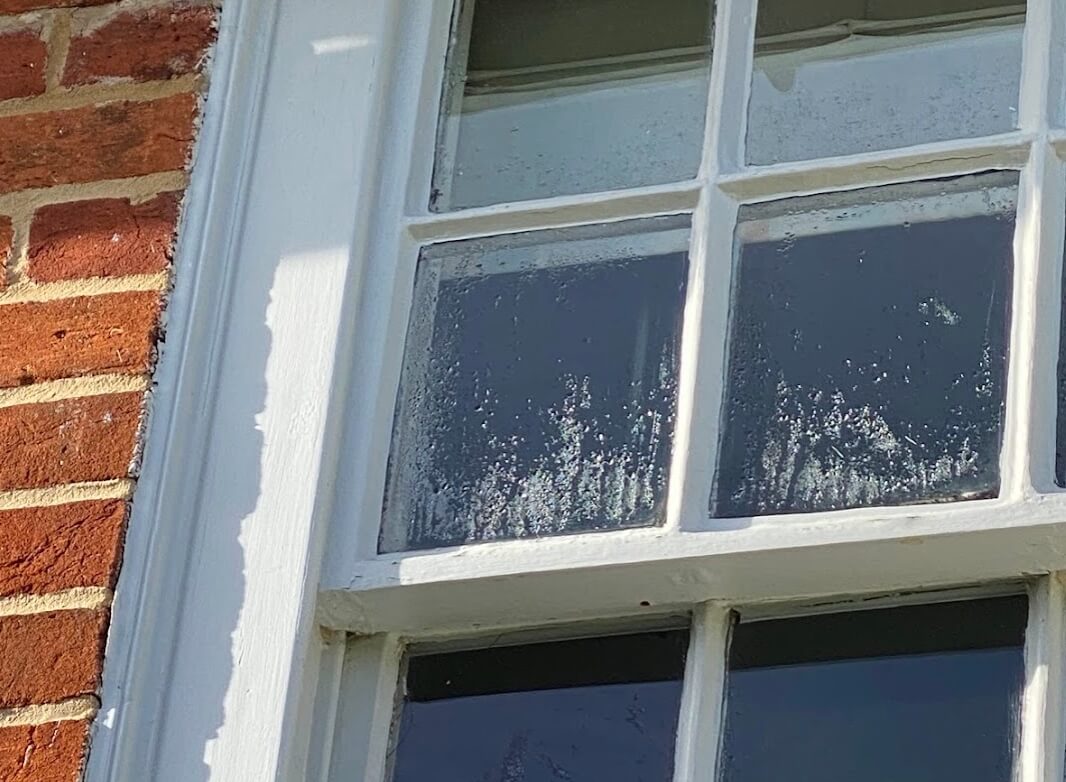 Double glazing can improve efficiency and EPC rating and reduce condensation in listed buildings.
Still, you must choose the right slimline double glazing for your listed building.
So, let's break down the slimline double-glazing options you have and which are best suited to listed buildings, and how this double-glazing technology works, shall we?
How does double glazing work?
There are a few different types of double glazing, and choosing the right one is vital to get the desired result and savings on energy bills.
While all these double glazing units do a good job of locking heat into your home, some can not be fitted into old sash window frames, some can greatly change the appearance of your windows, some can not be used for Listed buildings, and some will give you less value and efficiency than others.
Types of slimline double glazing by technology UK
Gas-filled double glazing
Gas double glazing has two panes of glass separated by argon or any other gas. Argon or any other gall alternative is a very poor heat conductor, so it doesn't heat up when you have your heating on or the sun is heating the outside of the window. The second pane of glass also acts as a noise barrier.
Gas-filled double glazing does a great job of keeping the temperature level in your home consistent. However, this type of double glazing needs a large gap between the two panes of glass. This is to allow as much argon to be used as possible. The more argon, the better the effect will be. So, gas-filled double glazing is about 24mm thick and this thickness is considered standard double glazing.
This works brilliantly in modern homes which are fitted with new windows designed to hold 24mm double glazing units, but for the period, listed buildings, this type of glazing cannot be fitted into existing wooden window frames as there simply isn't the space. So, to have gas-filled double glazing fitted into a period home, you must remove the old windows and replace them entirely, changing the charm, style and character of the property forever as the new windows will never 100% replicate the old.
Vacuum double
glazing
Vacuum slimline double glazing uses a vacuum instead of any kind of gas. Basically, this double glazing is filled with nothing; the air between the glass panes is removed. And it contains so much nothing that nothing can transfer heat between the panes of glass. So, if you have your heating on, the vacuum doesn't allow this heat to transfer to the outside pane of glass and escape. And if the sun is heating the outside pane of the glass, the nothingness between the panes prevents the heat from sneaking into your home.
Vacuums do a much better job at holding heat in place and reducing noise. This means this type of double glazing can be a lot thinner than gas-filled double glazing. So, where typical gas-filled double glazing is 24mm thick, vacuum-sealed double glazing can be half of this or less and still provide the same amount of heat retention and temperature retention.
Thanks to the slimline profile of this double glazing >10mm, it's perfect for listed buildings. The slim profile means that you can install vacuum-sealed double glazing in a listed property, and it will be invisible. So the charm and character of your listed home won't change, but its energy efficiency will in a big way.
Which double glazing is better for period homes?
So, vacuum-sealed double glazing is the clear choice for a period home, right?
Well, yes, vacuum-sealed double glazing has a slimline profile and outperforms any gas-filled double glazing.
However, what if there was a better slimline double-glazing technology that is even thinner and outperforms regular double-glazing?
Well, there is, Fineo vacuum-sealed double glazing.
We use Fineo glass to retrofit double glazing into period homes because it is the best glass we have found for the job. Let's explore this more below.
Best double glazing for listed buildings
The best way to see which double glazing is better for listed buildings is to create a test. So, we got different slimline doubling glazing units, a standard argon-filled double glazing unit, a triple-glazed unit and a single pane of glass.
We built a box around the units to represent a room in a home and then heated it with a heat gun and observed the results with a thermal camera.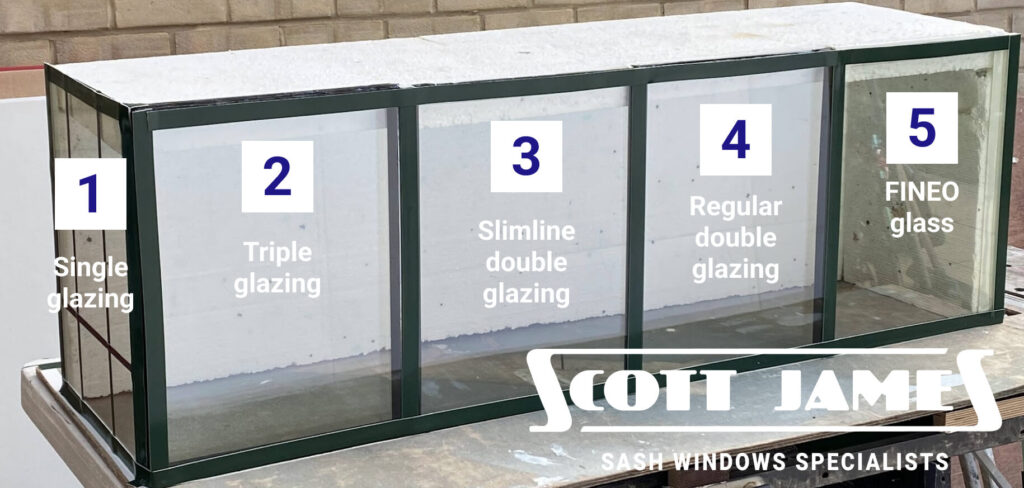 The results of our testing
You can see that the triple-glazed unit and the Fineo glass have the same temperature range through the thermal imaging camera.
While the single pane of glass hasn't retained the heat at all, the two double glazing units (the slimline and the argon-filled) are very comparable; slimline gas-filled double glazing is obviously less effective than the regular gas-filled double glazing, just because it is thinner.
So, the best units to use from our tests would be the Fineo unit or the triple glazing unit, followed by the slimline and the argon-filled unit. When we discuss double glazing for listed buildings, double glazing thickness is an important factor.
We simply can not fit regular 24mm double glazing into narrow Georgian rebates sashes.
The 36-44mm triple glazing is also not suitable for this job. The 12mm slimline double glazing would work in a sash window, but the Fineo glass outperforms it and is only 7mm thick.
The thickest glazing that can be used for double-glazing windows in a listed building is 12mm, but we choose to use 7mm Fineo glass due to the results we've seen in our testing and Fineo's testing too.
It is simply the better double-glazing unit for all types of windows but works perfectly for period homes and listed buildings, where slimline, discrete double-glazing is a must.
| | | | | |
| --- | --- | --- | --- | --- |
| | Thickness | Suitable for double-glazing listed buildings | Efficiency (WER) | |
| Single glazing | 3 mm | – | – | |
| Triple glazing | 36-44 mm | No | +++ | |
| Slimline double glazing | 12 mm | Yes | + | Loser |
| Regular double glazing | 24 mm | No | ++ | |
| Fineo vacuum-sealed double glazing | 7 mm | Yes | +++ (A Rated windows efficiency) | Winner |
Sash window double glazing cost
Now let's talk about the cost of sash window double glazing with slimline gas-filled units and vacuum-sealed units such as FINEO.
The slimline gas-filled double glazing is slightly cheaper compared to FINEO glass, but the main cost driver for any double glazing job on a listed building is labour.
The vacuum-sealed slimline double glazing units will also last longer compared to regular gas-filled double glazing. So, as a result, in the long run, FINEO is a better value for money.
Another factor is efficiency. FINEO glass retains more heat, so you will save more money on bills compared to if you had regular gas-filled double glazing.
Another reason that we use Fineo glass is that it is nearly invisible once installed.
A key part of installing double glazing into a period home is to make all of the work disappear and for the beautiful period windows to look unchanged. With other slimline double-glazing units, sadly, this is nearly impossible.
Our team usually price sash window double glazing at £1600 + VAT per average size sash window; this includes sash window refurbishment and re-decoration. This is usually around 50% cheaper compared to new custom-made hardwood sash windows.
Vacuum double glazing options
In general, vacuum slimline double glazing is 34-43% more efficient than regular double glazing and have a longer service life.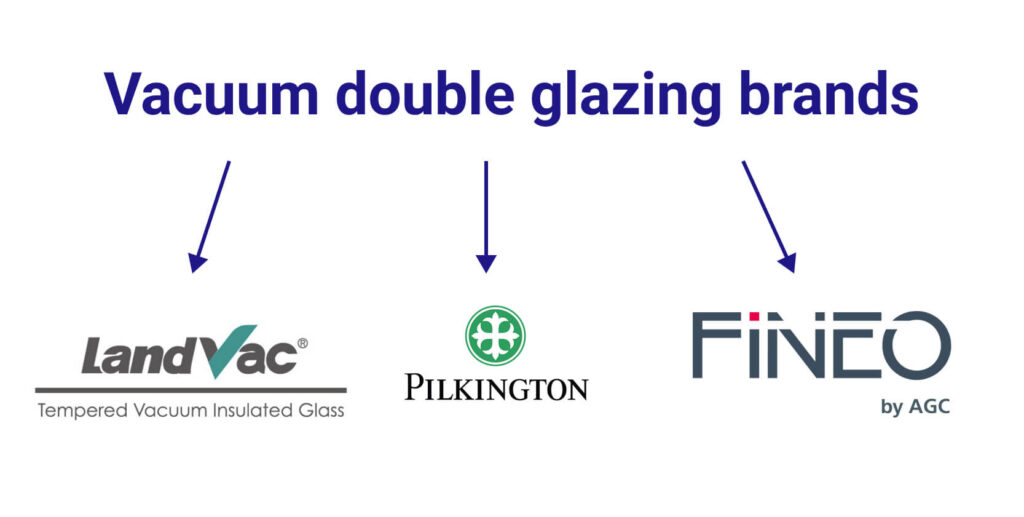 Pilkington Spacia
Key Features
Low profile (6.5mm thick)
Cheaper than some alternatives
Excellent thermal properties
First commercially available vacuum glazing
Used in Japan for over a decade
Ten years manufacturer guarantee
Visible protection cap
For more details, look at Pilkington Spacia brochure pdf Technical datasheet pdf.
The main issue we have with Pilkington glass is not its heat retention properties. It is a good slimline double glazing unit and can be used for sash window retrofitting projects.
However, the issue we see with this slimline double glazing is the visible protection cap that is used during production. This is used to suck the air out between the panes of glass and create a vacuum.
This makes Pilkington double glazing glaringly modern in a listed building, and we feel that this makes this double glazing less suitable for use in listed buildings.
Still, we also know that some conservation officers are fine with it, and we know people who have received permission to use this slimline double glazing in their listed building.
FINEO glass
Our number one choice for vacuum-sealed double glazing for the period and listed buildings is FINEO glass. At the moment, there is no better alternative, thanks to the very slim profile and no visible protective cap.
UV protection: Avoid harmful UV radiation as FINEO double glazing blocks at least 99% of UV radiation, which will also help to reduce discolouration and fading of interior furniture, floor, and fabrics.
Key Features
Ultra-slim profile: 7 (6.7mm) – 8mm
No visible protective cap
Outperforms all other slimline double glazings in tests
It leaves a nearly invisible look in listed buildings
Manufactured in EU
15 years manufacturer guarantee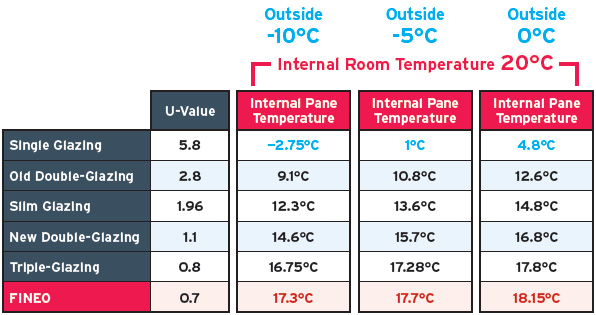 Unlike other slimline double glazing units for listed buildings, there is nothing that shows modern technology, allowing it to blend in perfectly with old sash windows.
It is also thinner than any other vacuum sealed, and gas-filled double glazing on the market yet offers the same thermal properties as 36-44 mm triple glazing.
So, FINEO glass provides a near invisible way of adding "triple glazing" efficiency to a listed building, retaining the charm of the windows and, in most cases (because of how thin it is), the existing window frames too.
Example of double glazed sash window with FINEO glass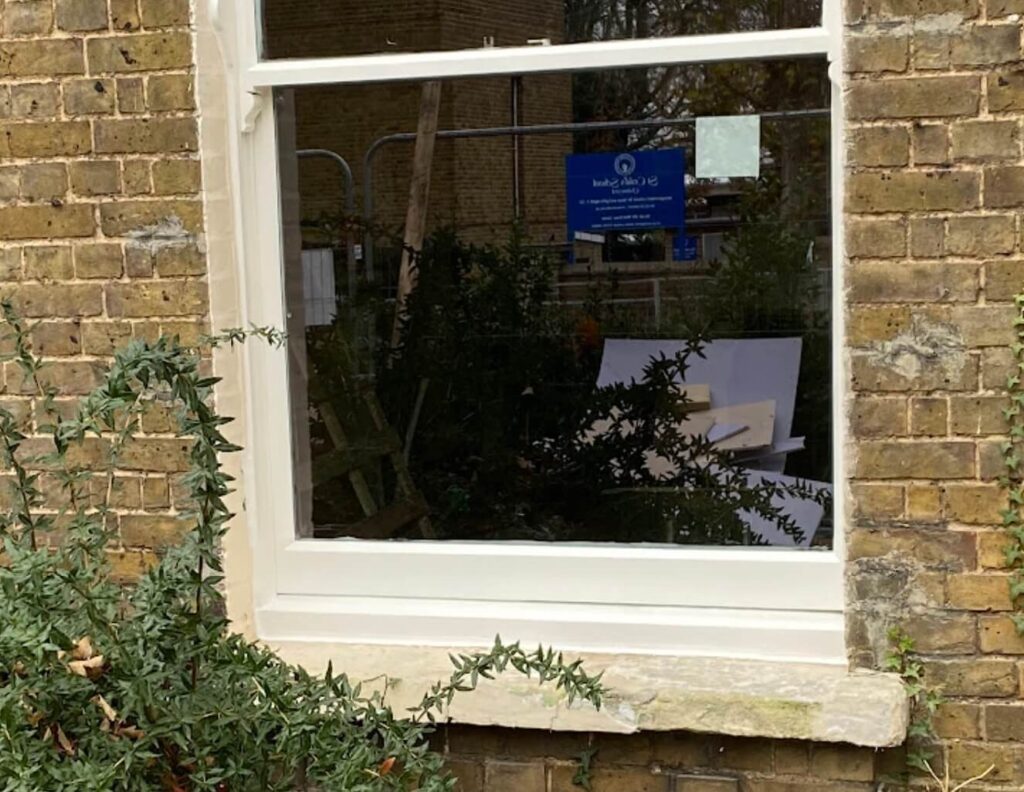 More FINEO glass testing
Before we start using any new glazing product, we test it; here is the photo of a styrofoam box with one side being covered with FINEO glass and the other side being heated with the heat gun.
As you can see on the thermal image, the heat escapes from the edges, where the glass was sealed to the styrofoam box with packing tape, yet no heat is escaping through the window itself.
There are small dots (Support Pillars 0.5 mm) on the glass, but they are only visible if you take a closer look at the bright background.
If you look at the window from a distance of a couple of meters, you will not see any dots. The sideline is also not visible when installed into the frame.
When we show the sample glass to the clients, in most cases, they do not notice the support pillar dots before we point them out.
Support pillar dots are used to make sure there is space between the two panes of glass.
Without them, after the vacuum has been created, the two glass panes will just shrink to one another as the vacuum will push them towards each other.
The space that the support pillars create allows their FINEO glass to have one of the best u-values of any double glazing unit on the market, despite being only 7 mm thick.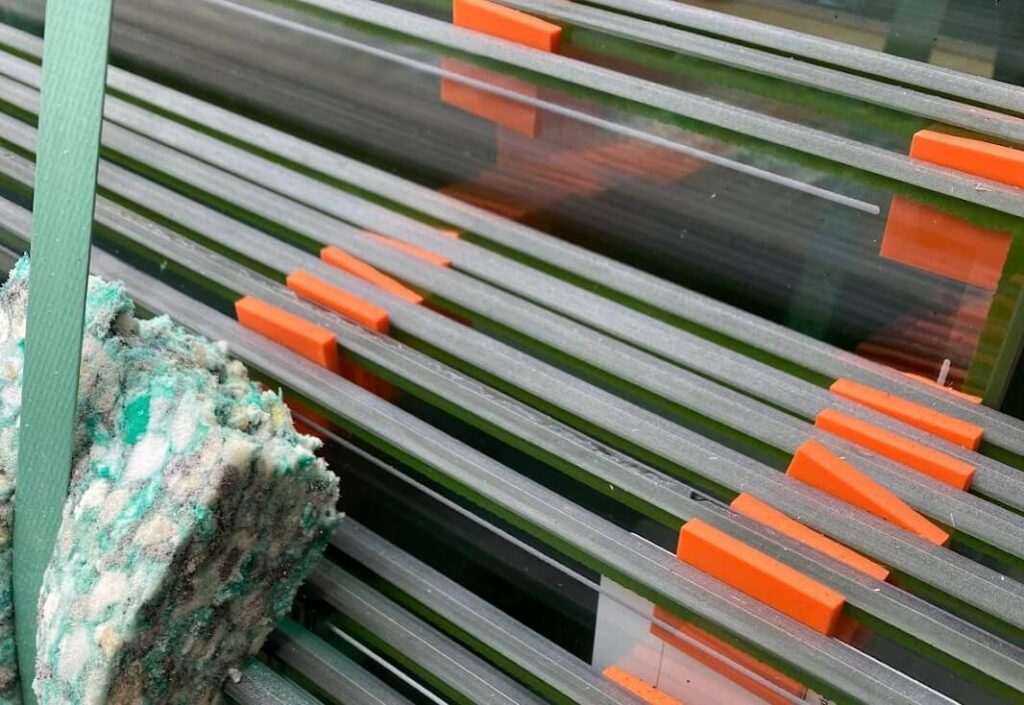 FINEO is so confident in their double glazing that they give a manufacturer guarantee of 15 years. This basically means that for 15 years, the double-glazing units will not lose their vacuum insulation.
LandVac vacuum slimline double glazing for listed buildings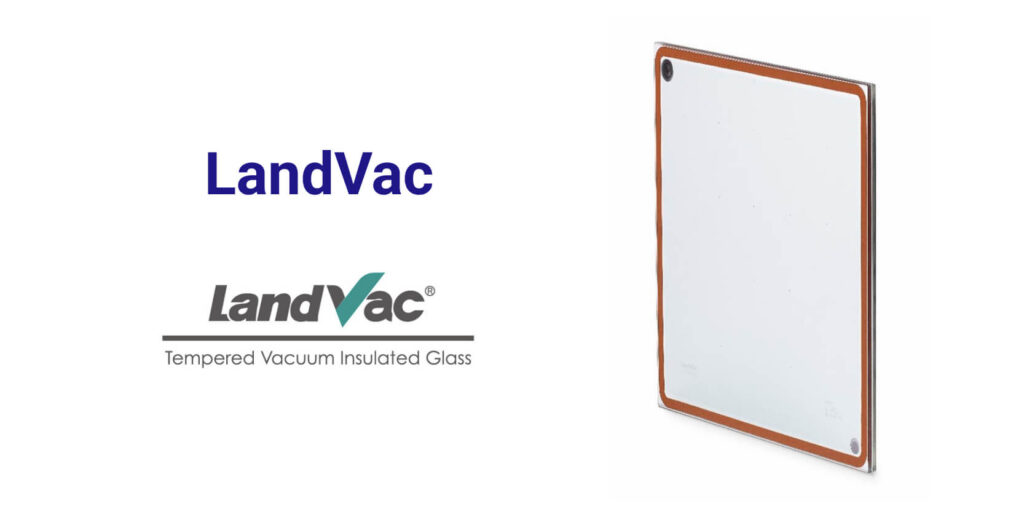 Key Features
Slimline profile
Tempered glass
Vacuum-sealed
High efficient
15 years manufacturer guarantee
Rw 39dB in noise reduction
Lead-free and recycled
U-Value 0.45W/(m2k)
LandVac has wider welded edges (edge seals) compared to FINEO or Pilkington Spacia.
Also, Check our comprehensive LandVac vs FINEO glass comparison.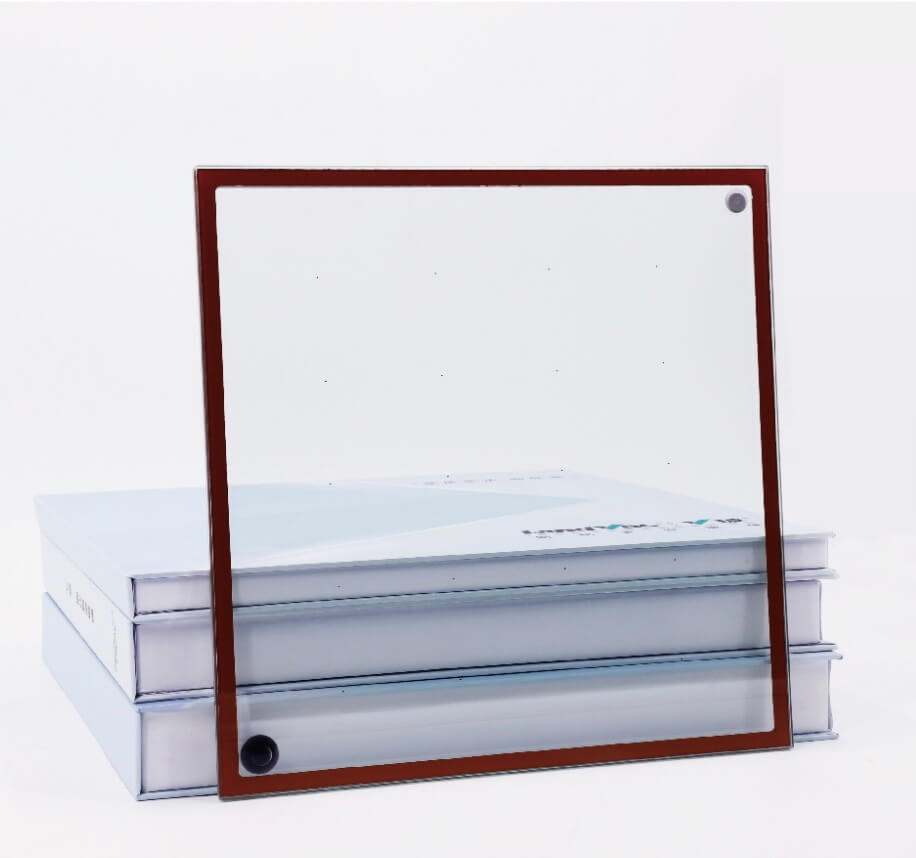 LandVac glass compared to other glazing options.

Different LandVac glass options
Compare LandVac with double glazing and triple glazing UK

Gas-filled slimline double glazing Argon & Krypton
30-50% of 12mm slim double glazing (gas-filled) will start failing in the first 5 years.
Our team do not use gas-filled slimline double glazing for listed buildings as it is not as long-lasting as vacuum-sealed alternatives and has reduced thermal properties compared to thicker, regular gas-filled double glazing options.
Key Features
11mm slimline double glazing can be installed in listed buildings
Cheaper than vacuum double glazing
It can be nearly invisible
Shorter production lead time
More widely available
Manufacturers in the UK
Permission for slimline double glazing for listed buildings
To install slimline double glazing into windows in Grade 2 listed building, you will need planning permission, but what we see now is that conservation officers are becoming more aware of new slimline vacuum double glazing products and are more likely to give the permission as retrofitting is a far better option for listed building than window replacement.
The general trend is that energy sources are becoming even more expensive every year, and the UK government needs to do something to improve insulation and the energy efficiency of UK houses, including buildings that are listed.

We believe that a double-glazing old sash window is the most sympathetic way to retain the historic windows and improve energy efficiency at the same time.

Unlike other companies, we do not sell new windows or new double-glazed sash inserts; we reuse your old sashes and fit new double-glazing units into the existing frames. So, your sash windows operate and look the same but are much more energy-efficient.
Retrofitting double glazing into sash windows the way we do it is not an easy job.
However, we believe it is the best way and certainly the most satisfying.
Once our double glazing work has finished, your home will look as beautiful as ever, but it will be better protected from heat loss and draughts for many years to come.
Read more articles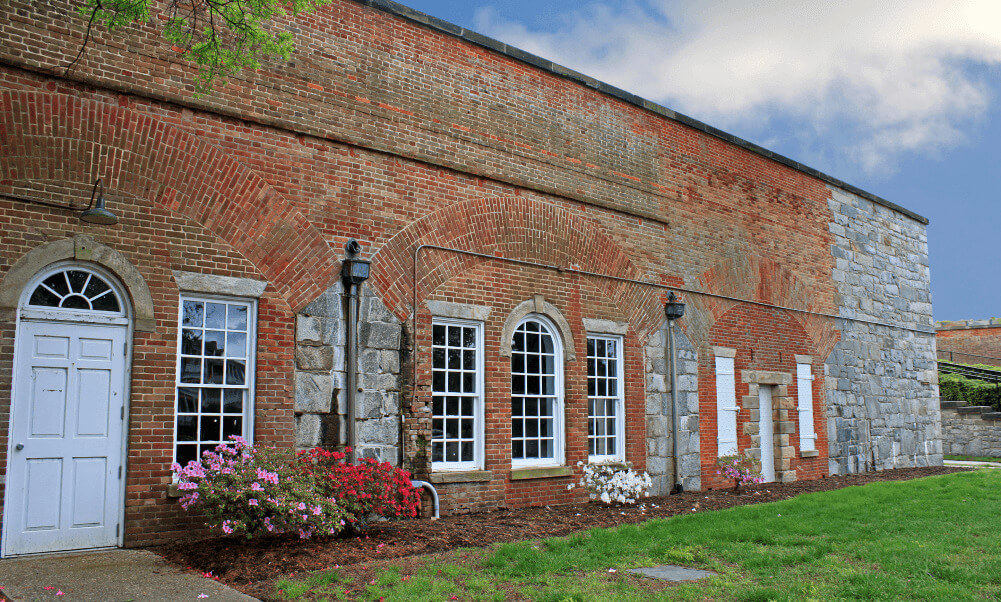 2 May
Double glazing retrofitting old cottage windows
Double glazing retrofitting old cottage windows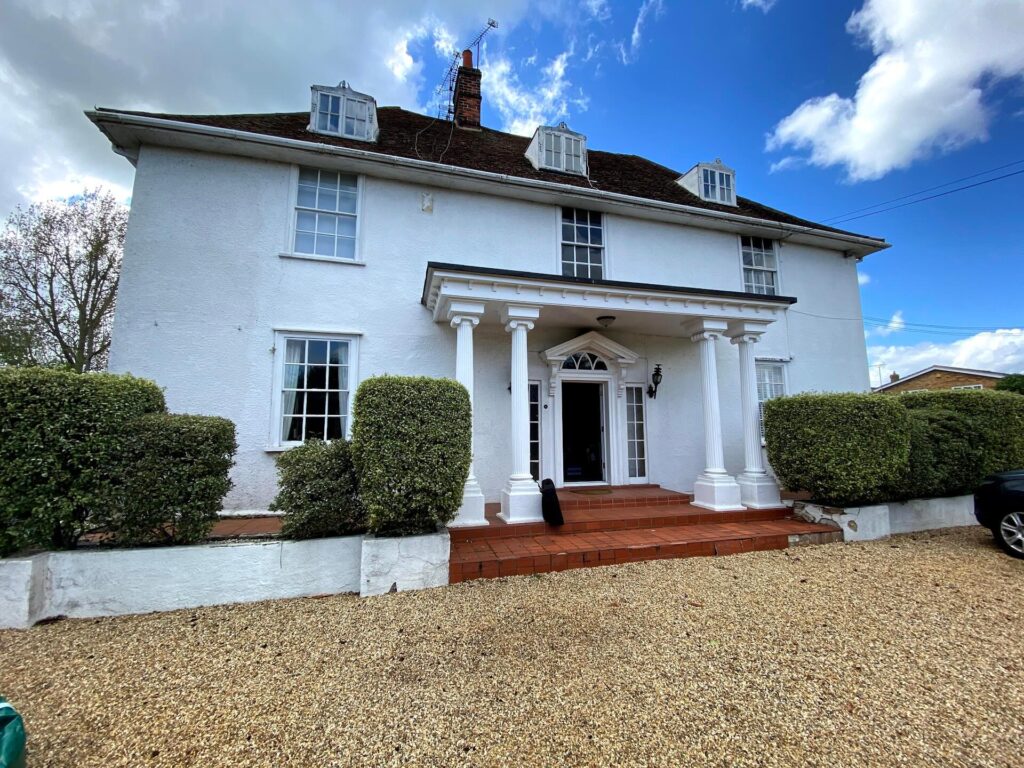 13 Sep
Box Sash Windows
Box Sash Windows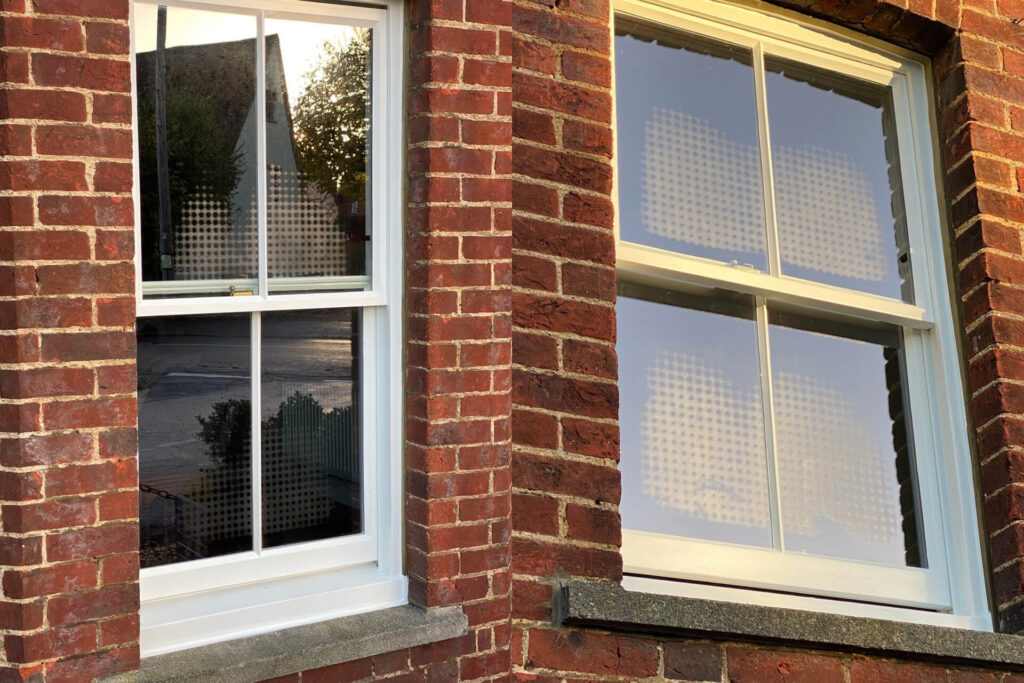 6 Nov
Condensation on the outside of windows
Condensation on the outside of windows