💛💙 Support Ukraine

Bay Window repair Essex
Bay restorations can require particular care and an expert level of know-how and problem-solving experience.
Feature wooden windows come in a wonderful array of styles from different eras and architectural traditions. We appreciate them all!
Notably characterful and unique to each property's style are traditional bay windows. Bay restorations can require particular care and an expert level of know-how and problem-solving experience. With additional woodwork complexities and challenging aspects of glazing and servicing, Our sash windows specialists team are on hand to restore and highlight the proud statement which your bay window was designed to make.
We apply our professional renovation skills to all aspects of bay renovation:

Deep and comprehensive repair to compromised wood and structural timber
Restoration and upgrading of operational systems, e.g. sash pulleys, cords, chains, hinges
Extensive and discrete fitting of deluxe draught-proofing
Retrofitting of premium double-glazing, inclusive of rebalancing and other necessary adjustments
All preparation, redecoration and finishing works, from putty replacement to full high-quality repaints
Full repairs to associated bay window woodwork

As with other wooden windows, in over 90% of cases, the professional restoration of bay windows is the optimum and most cost-effective way of revitalising your property.
Please enjoy some examples of our recent bay window restorations…




Additional restoration services:
As part of any restoration projects undertaken, we are also able to extend our window renovation expertise to a wide range of other, additional restoration needs.
Using a range of techniques and premium materials (such as the Accoya® and Tricoya product-lines), we completely restore any aging, rotten and damaged timberwork that features as part of your property's restoration project. This may include aspects of your home such as external timber cladding, wooden doors, gable features and soffits, or wooden conservatories/orangeries and French doors.
All additional restoration work is conducted in the same way, with an emphasis on accentuating the heritage details whilst enhancing quality and longevity.


Sash windows restoration


For our work, we only use the highest-quality materials. Combined with advanced epoxy resins, sealants and fillers, we replace complete sections of degraded timber using Accoya® timber and Tricoya® panelling and veneers. Working with the Accoya®/Tricoya® material range means that traditional styling and quality can be preserved. Enhanced durability and longevity are built-in.


In most cases, our team of experts can conduct wooden window repair Essex
and restore existing windows. By identifying the root causes of rot, decay and damage, we can take remedial action, resulting in 100% strong, fit-for-purpose, beautiful wooden sash windows – transforming your windows and property.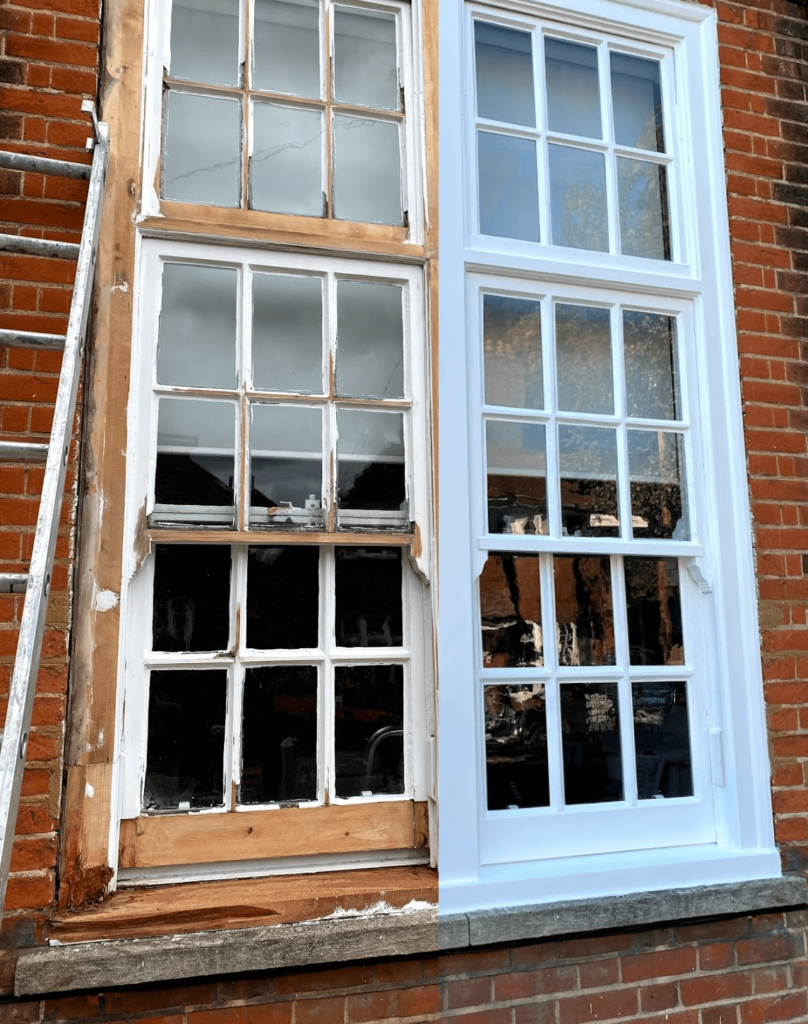 ---
Double Glazing
We change loose and tired putty for up-rated resinous replacements, reinforce existing windows, retrofit new double glazing units, made using high-grade glass, supply and fit complete double-glazed wooden windows.


Draught-proofing
By carefully overhauling your sash windows and renewing, upgrading or adding high-quality draught-proofing, we can make large improvements to your window operation and thermal efficiency. Draught-proofing will reduce external noise, resolve rattles and prove a highly cost-effective way to enhance your home space.


Repaint
Thorough surface preparation and masking is first completed. A smooth, durable paint finish is then applied, layer-by-layer, by our expert team of sprayers.


Our sash window refurbishment and double glazing retrofitting projects
Contact us now to obtain a Free, No-Obligation Quotation