Sash windows repair Suffolk
We provide all aspects of wooden window restorations and double glazing
Restoring your feature wooden windows with Scott James ensures that your property's original architectural charisma is brought to the fore. It is our passion and responsibility to understand the unique heritage of your building and restore all aspects of its windows to match the original design. We extend on 'back to best' with the addition of improvements to match your personal criteria, made possible owing to our years of research and development and the advance of innovative products such as Accoya® timber and Fineo glazing.


Accoya® wood: warranted for 50 years above ground, 25 years in-ground or freshwater




Our skilled team of renovation experts will repair and revitalise ageing wooden windows.

Just some of the wooden windows problems we can solve include:


Decayed window sills
Rotten or compromised timber
Damaged glass
Stuck or out-of-balance sash windows
Broken or tired sash cords, springs, chains and pulleys
Draughts and poor fit, leading to thermal inefficiency
Tired aesthetics or uneven paintwork
Perished seals and putty
and more….


The Scott James approach is to respond to the charm and period details of your property. We work thoroughly, efficiently, professionally, and with uncompromising high-quality. Through repair, servicing, uprating measures and premium redecoration, our extensive team of specialists restore your feature windows to a notably beautiful standard.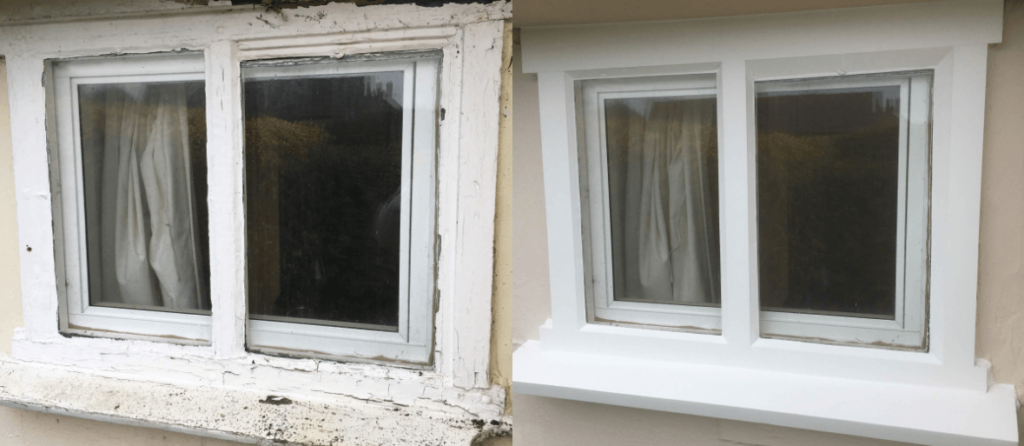 We welcome, and actively shape the advances being made in the restoration industry's materials and product sectors. By combining traditional craft with a specialist, bespoke products, we are delighted to provide sensitive, high-quality results – honouring the original details – whilst being able to deliver upgrades to longevity, quality and living conditions. Both cost and environmental benefits are robustly built into a Scott James restoration.



"If you're not passionate about restorations this might sound a bit odd, but it's important to become friends with each property – to know about its history; its story; what it needs – then you get a real sense of how to help."

James

Sash windows repair Suffolk: advanced materials which we embrace include the revolutionary Accoya® timber – providing minimal shrinkage, swelling or jamming, and increased protection against insects and fungi; Fineo double-glazing – an ultra-slim (6.7mm) vacuum-sealed glazing innovation which boasts incredible thermal, acoustic, security and economic benefits. In most cases, Fineo glazing can be installed in properties which are Grade II listed, sited in conservation zones or have other development regulations (we are experts here so do contact us in this regard).
In addition, our pioneering paint spray method uses advanced paints and equipment to provide incredibly smooth finishes which are thicker, visually stunning and more durable than that which is achievable by the exclusive use of brush and roller.



"I'm very traditional in my ethos and my methods, but I am absolutely convinced that if our forefathers who were doing this work first time around had access to some of the equipment and materials that we do now, they'd be using it!"

James


---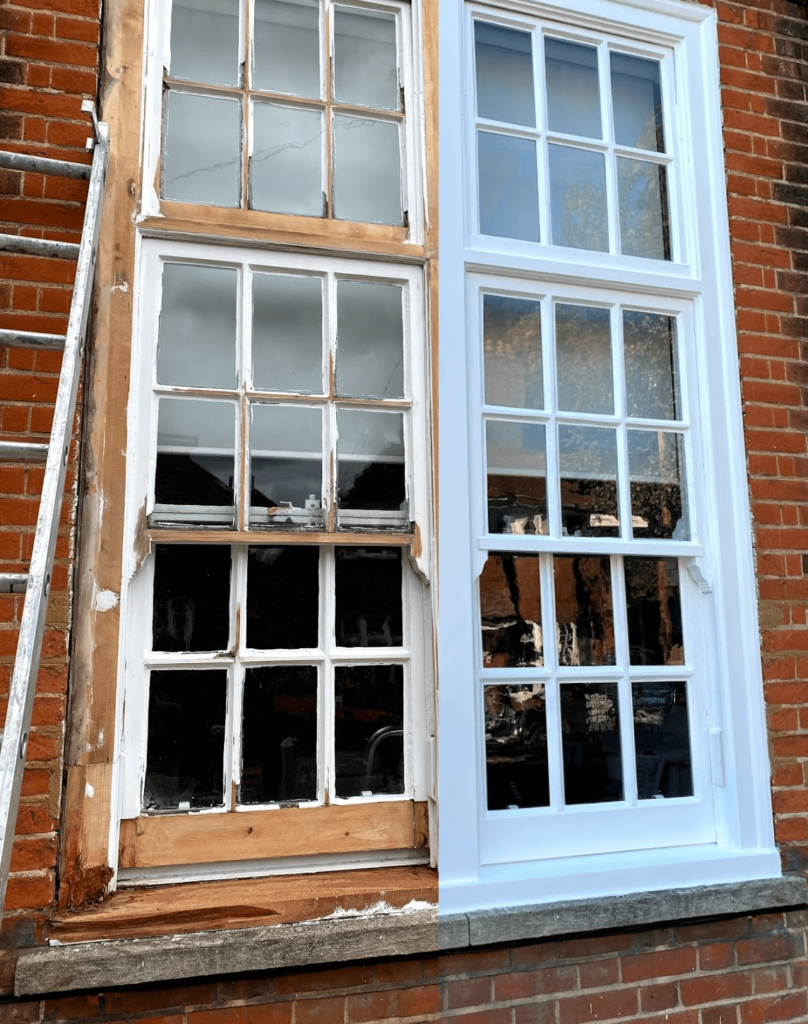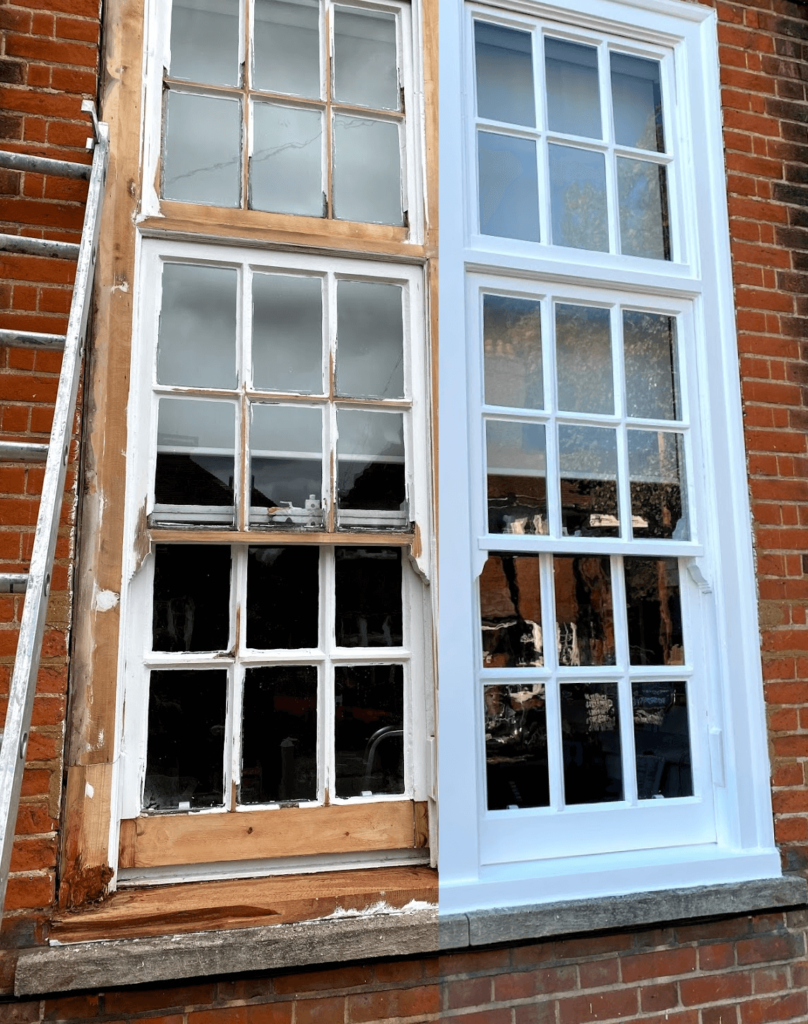 ---
Double Glazing
We change loose and tired putty for up-rated resinous replacements, reinforce existing windows, retrofit new double glazing units, made using high-grade glass, supply and fit complete double-glazed wooden windows.


Draught-proofing
By carefully overhauling your sash windows and renewing, upgrading or adding high-quality draught-proofing, we can make large improvements to your window operation and thermal efficiency. Draught-proofing will reduce external noise, resolve rattles and prove a highly cost-effective way to enhance your home space.


Repaint
Thorough surface preparation and masking is first completed. A smooth, durable paint finish is then applied, layer-by-layer, by our expert team of sprayers.



If you are based in Suffolk or neighbouring region and have a restoration project you wish to bring to life, the team at Scott James are at hand to ensure quality service and results. Whether private or commercial, Georgian cottage or Victorian offices, re-glazing bay windows or redecorating one hundred sash casements, the specialist restorers at Scott James will design the best-fit solution. To find out more and provide your property with the rejuvenation it deserves: Contact the team at Scott James.
Contact us now to obtain a Free, No-Obligation Quotation