💛💙 Support Ukraine

Sash windows painting Essex
Offering a unique expression of quality all its own, a paint-spray finish is a great example of where modern methods can enhance period properties.
Our sash windows specialists meet growing demands for an uncompromising wooden window restoration service. Working throughout the Essex region, our team of sash window specialists provide a complete renovation service: renewing and extending the life of your wooden windows. 
We deliver continuous attention to detail, ensuring that all the needs of your period property and its unique characteristics are accommodated. Our skilled craftsmen bring new and cost-effective life and joy to ageing wooden windows. This demands that the finishing decoration is of an equally uncompromising standard…

Our skilled craftsmen bring new life and joy to aging wooden windows.



We bring modern techniques together with a traditionally-rooted adherence to quality. This allows us to extend important architectural inheritance, time-served crafts and heritage charm long into the future whilst cherishing them today.
The painting process we employ follows this same philosophy of respectful, beautiful, yet functional longevity. With modern paint spraying equipment and advanced materials, we leave your feature windows with an excitingly good finish!


"Once the final coat has gone on, and then comes the big reveal as the protective coverings are removed – that's when you experience the full transformation."

Alex


Offering a unique expression of quality all its own, a paint-spray finish is a great example of where modern methods can enhance period properties. Both in terms of outcome and efficiency, paint-spraying surpasses what is achievable by brush and roller.
Layer by layer, cutting-edge paint technology allows us to add durability, an exact colour palette, and an incredible evenness of application. The paints and processes we use also mean we can work throughout the year, in most temperatures!
The joy of a smooth finish is particularly apparent when applied to the high-density, smooth and stable Accoya® and Tricoya® materials, which we use in our wooden window repair services. 

"It feels… it actually feels quite exciting to me! The fusion of real, visible quality; precise period styling; and super smooth and crisp paint finish all at once."

Dave


Once the primary restoration work is complete, our team cleans and prepares all the surfaces to be painted. We thoroughly mask-off all other areas and our decoration experts are then able to build up smooth, even layers.
In addition to wooden windows, our team is also able to apply their skills to a wider range of needs. As part of a restoration project, we can restore, prepare and repaint other external features such as bargeboards and soffits. We have extensive experience in double-glazing sash windows, repainting timber-clad houses and efficiently redecorating large areas to a high standard.
The high-grade primers and paints we use are quick to dry, hard to wear and long to last! We offer our premium wooden window redecoration service to both private and commercial customers – we look forward to discussing the possibilities with you.


Timber restoration


For our work, we only use the highest-quality materials. Combined with advanced epoxy resins, sealants and fillers, we replace complete sections of degraded timber using Accoya® timber and Tricoya® panelling and veneers. Working with the Accoya®/Tricoya® material range means that traditional styling and quality can be preserved. Enhanced durability and longevity are built in.

In most cases, our team of experts can repair and restore existing windows. By identifying the root causes of rot, decay and damage, we can take remedial action, resulting in 100% strong, fit-for-purpose, beautiful wooden sash windows – transforming your windows and property.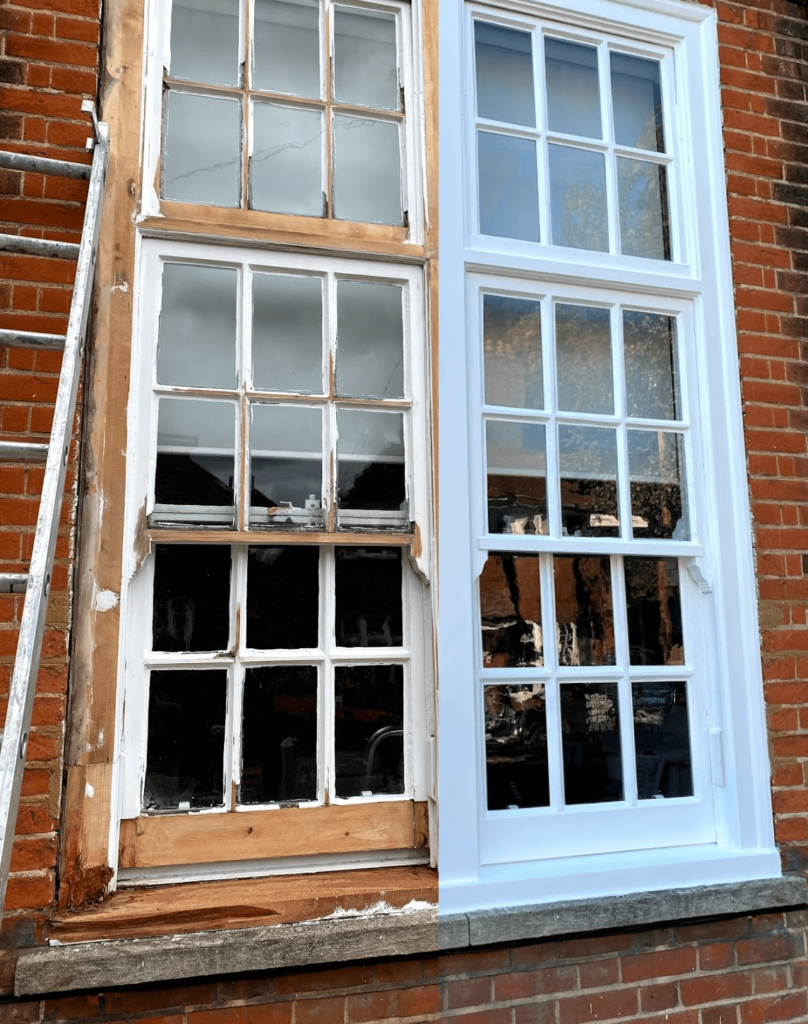 ---
Double Glazing
We change loose and tired putty for up-rated resinous replacements, reinforce existing windows, retrofit new double glazing units, made using high-grade glass, supply and fit complete double-glazed wooden windows.


Draught-proofing
By carefully overhauling your sash windows and renewing, upgrading or adding high-quality draught-proofing, we can make large improvements to your window operation and thermal efficiency. Draught-proofing will reduce external noise, resolve rattles and prove a highly cost-effective way to enhance your home space.


Sash Windows Repair
Restoring rather than replacing wooden windows is often a cost-effective and sustainable way to retain your property's architectural personality.



Our sash window refurbishment and double glazing retrofitting projects
Contact us now to obtain a Free, No-Obligation Quotation