Sash windows repair Hertfordshire
Repair, draught-proof & Double Glazing in Hertfordshire
If you have a sash windows restoration project in the Hertfordshire area, with wooden windows deserving of expert care, then contact Scott James – the specialists in heritage repairs and enhancements.
Scott James are professional restorers and enhancers of all wooden windows and heritage timber features. We have a passion for both traditional and innovative methods – we combine the use of premium materials with our extensive renovation knowledge. Our results speak of our respect for architectural integrity and preservation, whilst we take pride in improving on form and function. Our dedicated team ensures that uncompromising quality produces excellent durability. The Scott James windows specialists approach sustains the vitality of your newly restored windows and delivers a great return investment.

Scott James – the dedicated team of sash windows restoration experts: reinstating architectural charm and superior quality to homes throughout Hertfordshire.




Our skilled team of renovation experts will repair and revitalise ageing wooden windows in Hertfordshire.
Some of the wooden windows problems we can solve include:


Decayed Sash window sills
Rotten or compromised timber
Damaged glass
Stuck or out-of-balance sash windows
Broken or tired sash cords, springs, chains and pulleys
Draughts and poor fit, leading to thermal inefficiency
Tired aesthetics or uneven paintwork
Perished seals and putty
and more….


The Scott James team is forged by a common passion for providing exceptional solutions to all of today's period window restoration challenges. We are time-served in an array of crafts and our collaborative work ethic allows us to provide truly industry-leading service. Together to cover all aspects of window renovation, from comprehensive repair and servicing to premium glazing upgrades, advanced draught-proof retrofitting and immaculate start-to-finish redecorations.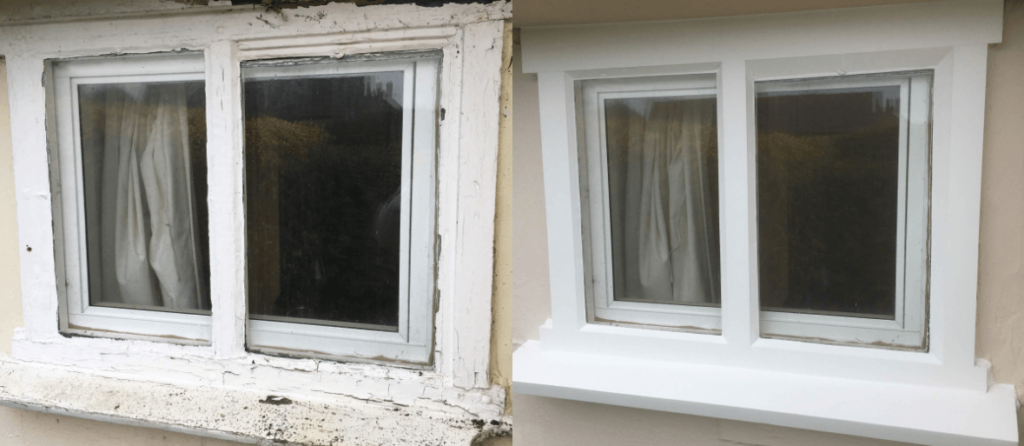 We faultlessly accentuate the traditional charisma of your property and sensitively install new benefits to the windows themselves, the property's aesthetics, interior comfort-levels and living conditions. Scott James uses only the best materials and methods, extending the life of your windows whilst eliminating the need for any unnecessary future maintenance.


"It's a great team to be part of. Between us, we have an amazing array of talent. We're constantly learning from each other. This has really allowed us to push our accomplishments – and the whole restoration industry – to a new level."

Adam


Our skilled engineers, joiners, decorators, and renovation experts repair and rejuvenate damaged, poorly functioning and ageing wooden windows. The Scott James premium service ensures beautiful results with long-lasting benefits. Here are some examples of how we work and what we can deliver:


The high-quality preservation of traditional charm is prioritised
The lifespan of existing windows is extended due to premium materials and expert knowledge
Using advanced paint technology, aesthetics are enhanced beyond their original splendour
The benefits of modern materials are discreetly integrated
Energy efficiency is increased (typically yielding yearly cost benefits…)
Fantastic sustainability credentials – embedded within our materials and processes
Greater comfort and living conditions, every day for years ahead
Project planners who focus on minimal disruption, maximum satisfaction


"When it's called for, we're always happy to craft new bespoke windows in keeping with the property's period, but it's extra rewarding for us to work with originals – it's a connection with past, present, and future…"

James

Welcoming private and commercial enquiries, Scott James work with each unique property to provide quality solutions for your restoration requirements. Our committed staff seek foremost to continue the legacy of your original windows: in over 90% of cases we can effectively work with existing windows. This is the most respectful way to preserve authenticity, as well as being much more sustainable environmentally and advantageous economically.
---
Wooden window repair Hertfordshire

For our work, we only use the highest-quality materials. Combined with advanced epoxy resins, sealants and fillers, we replace complete sections of degraded timber using Accoya® timber and Tricoya® panelling and veneers. Working with the Accoya®/Tricoya® material range means that traditional styling and quality can be preserved. Enhanced durability and longevity are built-in.

In most cases, our team of experts can repair and restore existing windows. By identifying the root causes of rot, decay and damage, we can take remedial action, resulting in 100% strong, fit-for-purpose, beautiful wooden sash windows – transforming your windows and property.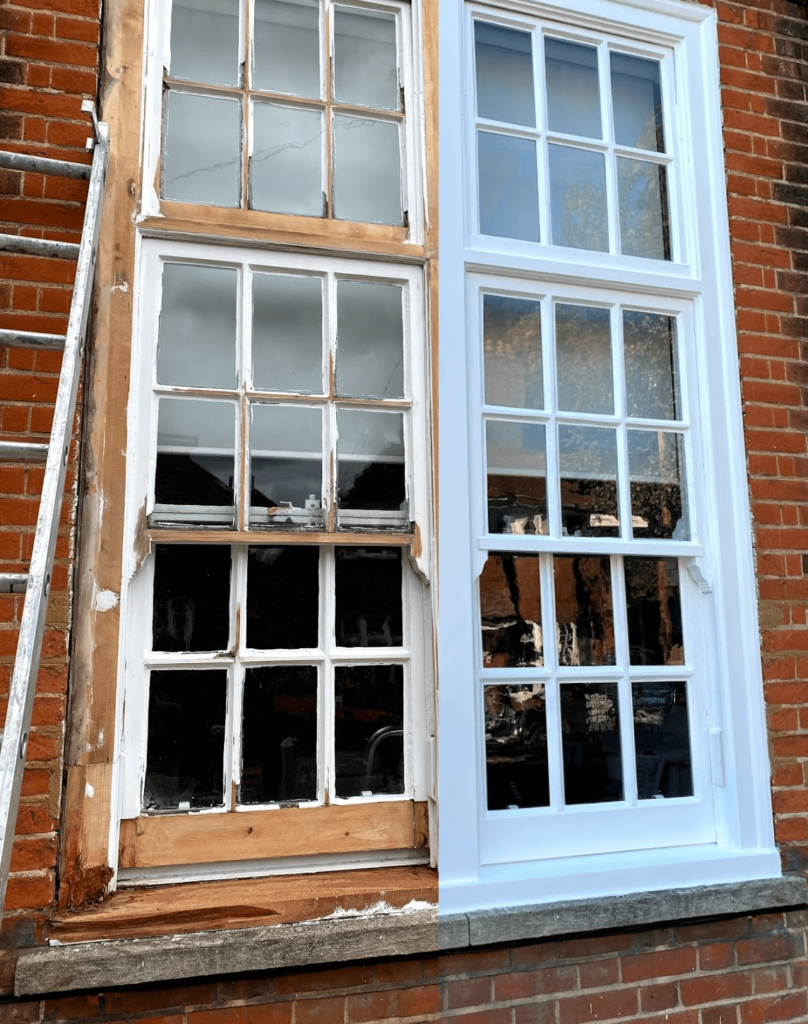 ---
Whether your rejuvenation project seeks damage-repairs; servicing and functional improvements; glazing upgrade – from single to advanced Fineo vacuum-sealed double-glazing; advanced draught-proofing; or high-end redecorations, Scott James are at your service. We apply our extensive expertise towards ensuring your property's architectural significance is centre-staged and that quality improvements are instated at every stage, in every detail, for many years ahead.
Sash window Double Glazing Hertfordshire
We change loose and tired putty for up-rated resinous replacements, reinforce existing windows, retrofit new double glazing units, made using high-grade glass, supply and fit complete double-glazed wooden windows.


Sash Draught-proofing Hertfordshire
By carefully overhauling your sash windows and renewing, upgrading or adding high-quality draught-proofing, we can make large improvements to your window operation and thermal efficiency. Draught-proofing will reduce external noise, resolve rattles and prove a highly cost-effective way to enhance your home space.


Windows re-decoration Hertfordshire
Thorough surface preparation and masking is first completed. A smooth, durable paint finish is then applied, layer-by-layer, by our expert team of sprayers.



Specialist wooden window restoration is for those seeking to:


Reinstate beauty and charm of period wooden windows
Preserve heritage features and honour the original design
Appreciate excellent craftsmanship and live with quality
Increase comfort through minimal draughts and maximal functionality
Greatly extend the life of existing wooden windows
Enhance all aspects of existing windows – from aesthetics and strength to materials, durability and finish


With Scott James, you are guaranteed premium Sash windows repair Hertfordshire, as well as extensive guarantees on all our work.
With the best materials, dedicated staff, and meticulous attention to detail, we are perfectly primed to discuss, understand and accommodate your needs. Balancing form with function and efficiency with craftsmanship, our experts deliver the comprehensive wooden sash window service. Refurbishing sash windows St Albans
Contact us now to obtain a Free, No-Obligation Quotation