💛💙 Support Ukraine

Sash windows repair Bury St. Edmunds
Scott James appreciate the uniqueness of every property and every project. We endeavour to design best-fit solutions.
For all aspects of high-end window restorations, Scott James are your specialists in Bury St. Edmunds and neighbouring regions. We are dedicated to creating bespoke solutions to the challenges of working with heritage features.
To renew the quality of both your property and comfort of living, our experienced team prioritise preserving and emphasising your property's architectural charm, whilst skilfully integrating the benefits of modern materials into all the work we do.
Please note: our minimum service order quantity is 15 windows for restoration or painting, a bay window is counted as 3 windows.

For projects of 30+ windows, we offer a trial refurbishment of 1 window.
Our window restoration Guarantees

Scott James believe restoration offers superior, authentic results: rejuvenating your heritage windows to their former best and beyond.

Our guarantees cover:
Paintwork 8 years (if the paint start to flake or peel, we'll come back to make it good)

Double-glazing for 15 (Manufacturer guarantee)

Repairs for 20 years (if any of our repairs produce faults, we'll promptly come back to address the issues)


And with thoughtful maintenance and ongoing care, original windows can last well into the next century!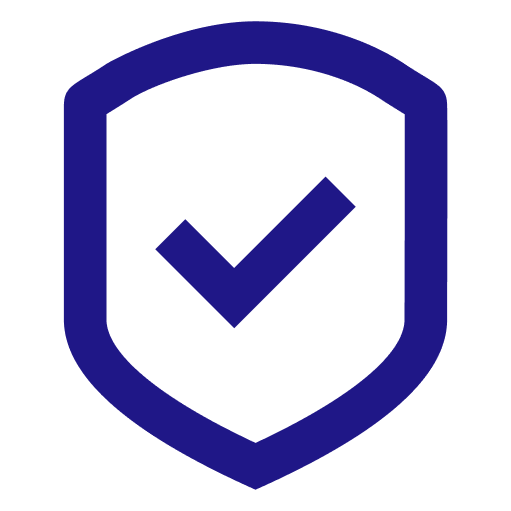 With the relevant know-how, the large majority of damage suffered by traditional wooden windows can be remedied and improved upon. Original charm is re-surfaced and allowed to thrive for many years to come. In these instances, professional renovation is the best, most sustainable, authentic and cost-effective way of rejuvenating your property. for the minority of situations where restoration may not be suitable, we provide a high-quality, new wooden window replacement service.

We deliver quality solutions to every restoration project and work with you and your unique property to achieve best-fit results. Our expert services cover all renovation needs, including:



Decayed sills
Rotten or compromised timber
Damaged glass
Stuck or out-of-balance sash windows
Broken or tired sash cords, springs, chains and pulleys
Draughts and poor fit, leading to thermal inefficiency
Tired aesthetics or uneven paintwork
Perished seals and putty
and more….


Restoring rather than replacing wooden windows is often a cost-effective and sustainable way to retain your property's architectural personality.



"The important thing is in understanding the property – the history; the culture of that period and the reasons behind the original designs. From there, you restore more than just glass and timber, you restore stories and the soul of a place"

Alex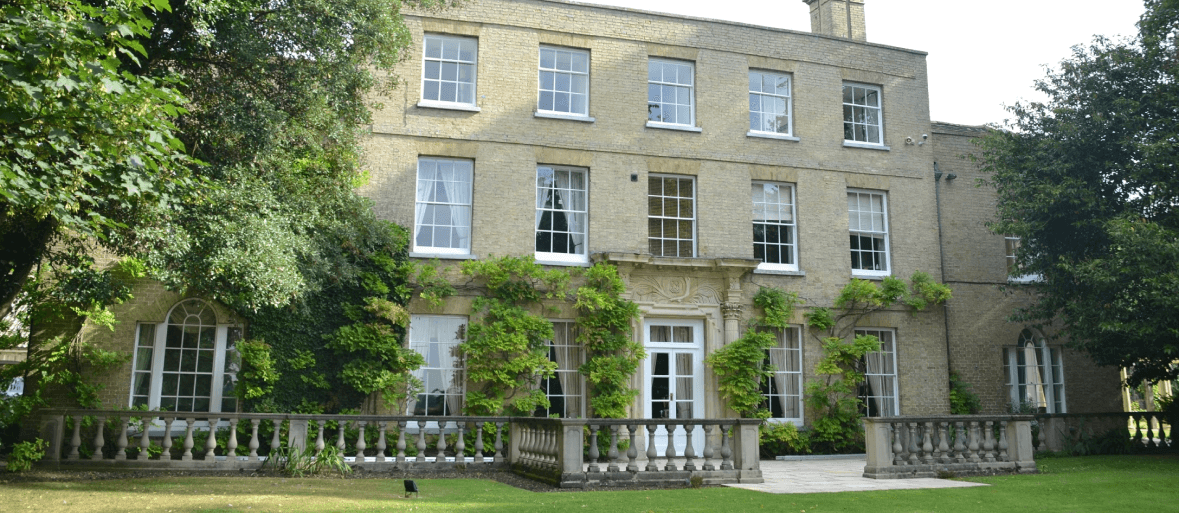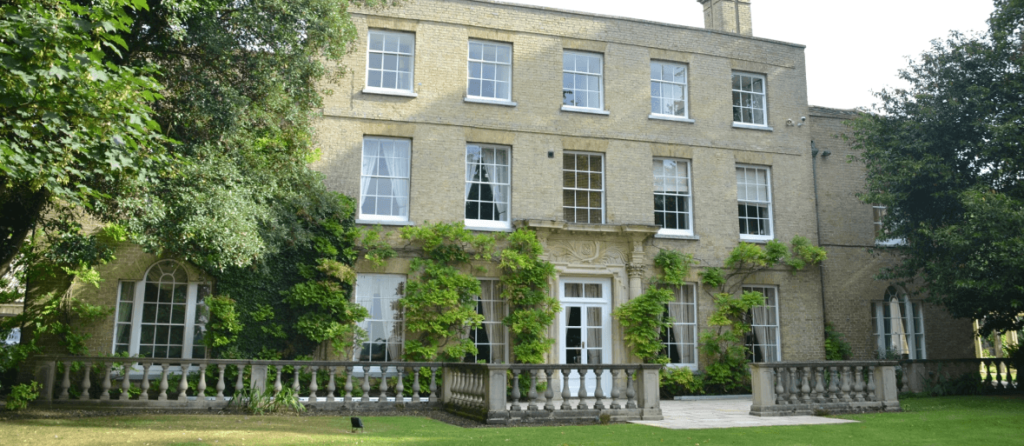 To achieve our industry-leading results, we use only the highest-grade materials and integrate them using both traditional and contemporary methods (wherever most appropriate). This is part of the Scott James approach: we deliver maximum benefits and modern comforts using pioneering technology and materials, whilst being uncompromising in our attention to detail and unfaltering in highlighting original characteristics.


With a Scott James restoration, tradition is brought forwards and modern comforts are future-proofed.

---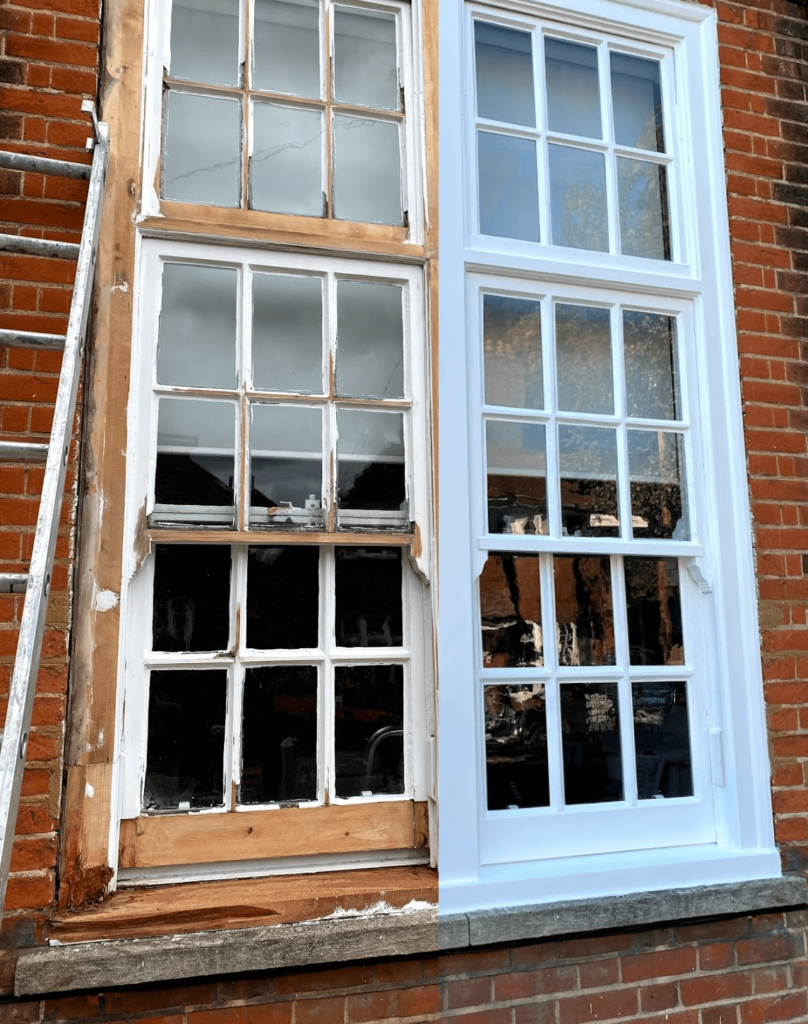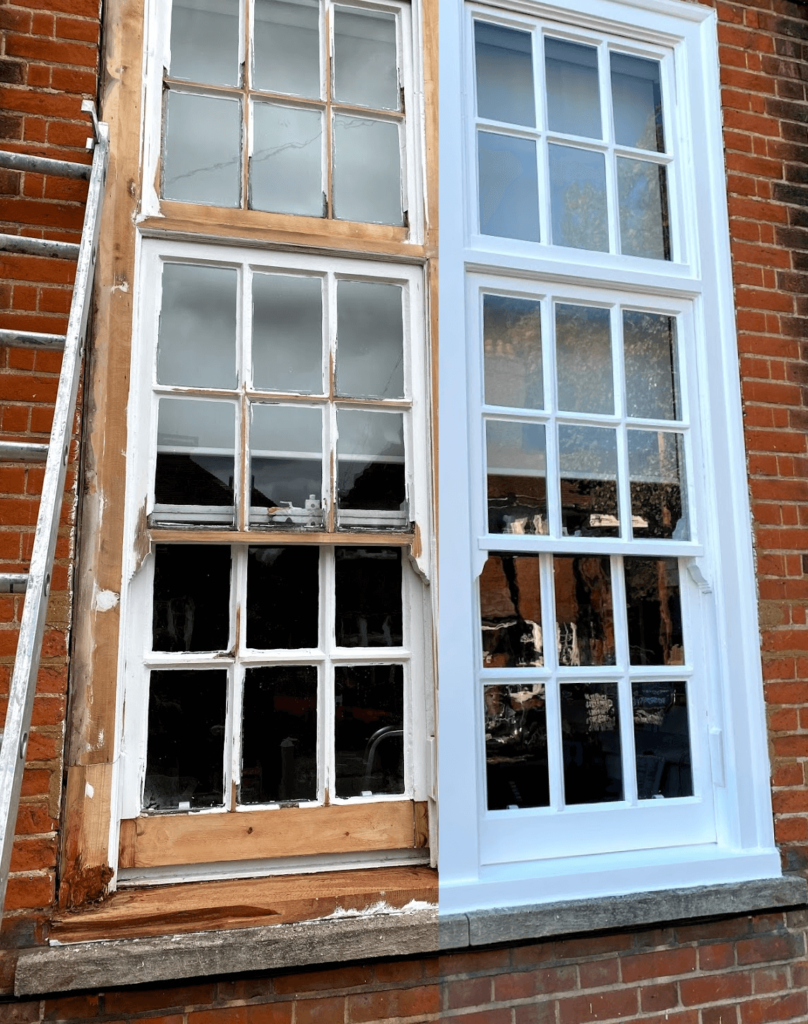 At the repair stages, any damaged timbers are replaced in complete sections of Accoya® timber and vulnerable areas are further protected with Tricoya® panelling and veneers. These modern timber products are incredibly hard-wearing and, thanks to modern technology, have incredible properties such as minimum swell and warp.
Accoya® wood: warranted for 50 years above ground, 25 years in-ground or freshwater

For upgrading your windows and your home's living conditions, Fineo double-glazing is another example of how we harmoniously incorporate modern materials into traditional windows. At only 6.7mm thick (compared to a standard 18mm+), Fineo double-glazing provides unprecedented opportunities to upgrade the glazing in existing timber frames without altering the aesthetics. It is incredibly tough and has thermal efficiency comparable to most triple-glazing thanks to vacuum-seal technology.



"In terms of the craft, I'm very traditional in my training and approach, but when the right companies develop the right products, they are a joy to work with and allow us, as restorers, to provide even better results – which is what it's all about really!"

Alex
---
Double Glazing
We change loose and tired putty for up-rated resinous replacements, reinforce existing windows, retrofit new double glazing units, made using high-grade glass, supply and fit complete double-glazed wooden windows.


Draught-proofing
By carefully overhauling your sash windows and renewing, upgrading or adding high-quality draught-proofing, we can make large improvements to your window operation and thermal efficiency. Draught-proofing will reduce external noise, resolve rattles and prove a highly cost-effective way to enhance your home space.


Repaint
Thorough surface preparation and masking is first completed. A smooth, durable paint finish is then applied, layer-by-layer, by our expert team of sprayers.


Scott James specialise in wooden sash window restorations. We provide high-end repairs and refurbishments and can design bespoke solutions to your restoration project. Repairing Sash windows in St. Edmunds, and throughout Hertfordshire, we are proudly serving your community. Our experts reinstate quality and modern upgrades to feature windows, whilst meticulously preserving original architectural charisma in every detail.
Our sash window refurbishment and double glazing retrofitting projects
Contact us now to obtain a Free, No-Obligation Quotation